Certification Propels and Provides Exponential Dividends!
"An investment in knowledge pays the best interest."
Benjamin Franklin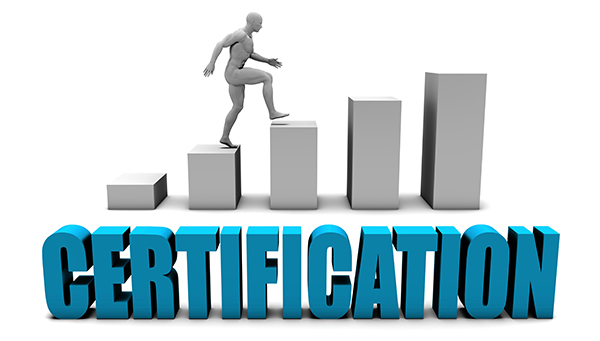 Many industry associations look toward certification programs to elevate the professionals in their respective industry or trade. And by offering this type of specialized training, the industry itself becomes increasingly recognized for its commitment to superior knowledge as a whole.
According to an Association News article, a survey was conducted by Simplilearn of 400,000 participants around the world who completed an online certification program. The results indicated that 76 percent of participants reported receiving a salary increase or a promotion due to their certification. The study also indicated that certified individuals reported greater levels of job satisfaction and confidence. The article reported that the ASAE Foundation and North Carolina State University's Institute for Nonprofits conducted similar research and found that credentialed individuals benefited from "increased prestige and a competitive advantage."
Several SMG association partners offer some sort of credentialing program to their members. The advantages of such programs include a commitment to superior professionalism, a heightened level of knowledge and expertise in one's field, a differentiator in the market and increased marketability, and increased customer assurance when dealing with a certified individual. "When an association provides a strong certification program, it shows an industry's unified commitment to creating consistent industry standards and best practices," SMG account executive Kristen Philips stated. "Certification programs provide the structure for advanced industry-specific education which in-turn builds trust between its recipients and consumers, while elevating industry credibility."
Individuals who make the commitment to become certified often look beyond the obvious benefits of salary and position bumps. They are interested in validating their knowledge, learning new skills or information in a micro-learning setting, and being held to a higher standard than peers who have not sought certification. "Certification programs provide a way for members to differentiate themselves," Nikki Augsburger, SMG Associate Director stated. "It gives consumers peace of mind that the industry professional they've chosen to work with has met rigorous requirements that demonstrate education, experience, quality of work, and commitment to the industry," Augsburger continued.
Some certification programs present unique opportunities for members to showcase their professional expertise. SMG client partner, the American Institute of Floral Designers (AIFD®), offers certification programs requiring participants to demonstrate not only book knowledge but exceptional skills in hands-on floral design. "By achieving the designation of Accredited In Floral Design (AIFD), or Certified Floral Designer (CFD®) individuals demonstrate a high level of excellence, education, and understanding of principles and elements in the field of floral design artistry," offered Jalene Bowersmith, Executive Director, and Stephanie Bruno, Associate Director. The AIFD® conference is quite a spectacular display of premier floral design by some of the country's most influential designers who have achieved the highest level of certification in their field.
SMG's professional managers work with our association partners to create, manage, and monitor successful certification and continuing education programs using technologies that effectively manage the overall process. Contact SMG to learn more.